Upskilling couldn't be easier…
…with licenses for each of our paths available for purchase on an individual basis or pick'n'mix a selection. How it works:
1. DISCOVER OUR PATHS
Browse through the learning paths, what fits you or your team?
2. PICK ONE OR SEVERAL
Do you find one or several that sounds interesting? Good!
3. ARRANGE YOUR ACCESS
Contact us to set up your access! We're happy to advise on the best package – based on your needs.
---
A powerful presentation
The program aims to provide the skills and the confidence needed to deliver powerful presentations. Following this path, participants will discover the process of developing and performing a presentation, along with plenty of tips on how to deliver an unforgettable experience.
---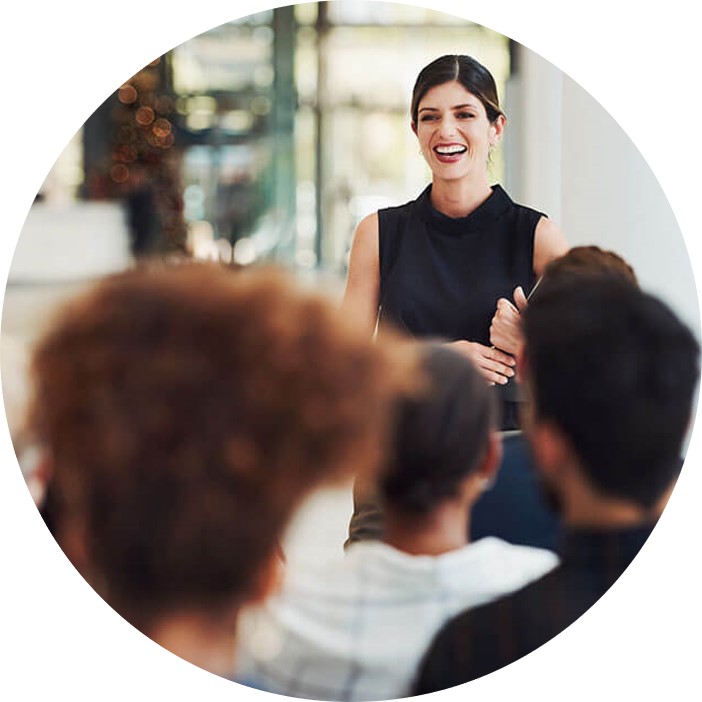 A toolkit for the presenter of tomorrow
Communication – Learn how to communicate in a clear and effective way, explore the different communicative styles and understand the personality types and how to deal with them. Find out how to actively listen to better understand your speaking partner.
Message – Understand how to build a powerful presentation, starting by organizing the content of the speech to transferring the message into a PowerPoint presentation and adding storytelling elements to engage the audience.
Presence – Discover how to use the body language with confidence by controlling and playing with facial expressions, tone of voice and movements, with the aim of captivating the audience from the beginning to the end of the presentation.
Audience management – Find out how to handle the audience's objections, manage time for interventions and keep nerves and stress under control.
Setting – Prepare the setting for your presentation, ensuring everything works. Discover how to run a presentation in different settings (virtual environment, small and large meetings) and interact with the audience effectively.
---